Barbarella came out in 1968 as a film and was directed by Roger Vadim. The movie's theme is futuristic science fiction. It was a originally a comic book written by Jean Claude Forest, it reflected many of the issues circling in the sixties through imagery; more importantly the sexual revolution. "Pornographic representations of sexuality ranged from profound explorations of desire to highly stereotyped permutations of sexual positions." Explained Jeffrey Escoffier in his article "The Sexual Revolution, 1960-1980"
Jane Fonda played the main character named Barbarella. Barbarella was an earth space captain, who was sent on a mission to another world to retrieve scientist Durand Durand. He had created a weapon that the people of Earth were interested in because it could kill humans. While on this adventure Jane Fonda wore skimpy outfits that revealed her breast and highly sexualized her. Later, it is revealed that this is not Jane Fonda sexualized, but this is a movie that embraces women and their sexuality.
Prior to landing on Tau Ceti's 16th planet, it emphasized that people of earth no longer had intercourse to experience sex instead they drank a pill to essentially have sex. It is noted when she is rescued and is asked to have intercourse with a man she does not know how or what the man means because of the way women experienced sex on earth was different.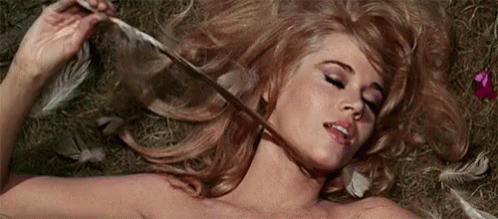 In the next scene Barbarella is enlightened by the intercourse. Much like the counter culture of the sixties that expressed that sex was way for women to have control and power. It is also similar to what the Acid Tests showed people; a new way of experiencing the world. As Jeffrey Escoffier in"The Sexual Revolution, 1960-1980″ states, "Throughout this period [1960's) young men and women engaged in their first acts of sexual intercourse at increasingly younger ages" (Escoffier). Women prior to the sixties would get married and only then intercourse was accepted. The sexual revolution is expressed when Barbarella fixes a angel named Pygar who cant fly, because he lost his inspiration, by having sex with him, then he is suddenly able to fly. Further, when she enters into the city the city is bleak and dead and conforming, which could be representing of people who were complacent with the government and approved the war and marriage before sex.
The parallelism of the way people viewed the government is expressed when Barbarella is captured by the black queen. The black queen explains to Barbarella what the matemos is; living energy liquid powered by evil thoughts, which allowed her to control and oppress the people of her kingdom. Much how people viewed the government that oppressed the minority citizens who were not complacent with the war. Further, Barbarella is captured and trapped when a guerrilla soldier saves her. This guerrilla soldier could be a reference to Vietnam warriors who considered themselves hippies along with the Pranksters, when they were dressed in military style and went to Washington, because they did not agree with the way their government was treating them. This Guerrilla man wants to experience what he believes to have heard the enlightened way of having sex; using the pill. Yet, when Barbarella uses the pill, mentioned earlier, Barbarella's hair transforms into what the ideal woman of the fifties wore, whilethe guerrilla's soldier's face looks very satisfied and his hand remains in the air as if wanting more while barbarella is left unsatisfied. This could be symbolic men of oppressing women and their sexuality.
At one-point Barbarella is stuck in the a room with the Matmos, who, according the black queen, devoured people. However, the Matmos is not able to devour Barbarella due to her innocence. Durand Durand decides to kill Barbarella with a machine the weapon of mass destruction; what it did was to give people pleasure until they die. However, Barbarella's sexual libido breaks the machine and is able to escape. It's again paralleled with the sexual revolution happening in the sixties. "The women's movement and changes in the understanding of female sexuality also played a central role in the sexual revolution."(Escoffer).
Barbarella beating the sexual machine could be a clear link with the feminist movement and women owning their sexuality.
When I first watched Barbarella I thought that this movie was a high end pornographic type movie. The plot of this movies called my attention and I couldn't understand why Barbarella wore such revealing clothing, much less why her having sex and defeating the sex machine meant. After taking this class and reading about the sexual revolution, I realized how this movie emphasized women and their growing sexuality and fighting the oppression that women faced.
Escoffier, Jeffrey. "The Sexual Revolution, 1960-1980" 2004. http://www.glbtqarchive.com/ssh/sexual_revolution_S.pdf